Youth employment is falling, even in the summer when teenagers seek their first seasonal or part-time job. When student-athletes seek employment, coaches can guide them and assist them in their search for good work experience.
Elite basketball players may be less likely to seek work because of they are balancing school and sport, playing a summer travel schedule or starting their prep school year in the first part of August. Those who pursue work are likely doing so because of financial need and deserve the support of their coaches and teammates. Coaches fill two important roles: serving as an advisor (and reference) during the job search and developing the transferrable skills the players will need to land that first job.
Looking for work, experiencing financial difficulty, or holding the wrong job can be very detrimental to a student-athlete's academic performance and put stress on the team. Staying informed regarding the student job market and possessing a few job hunting tips enables any coach to take charge of these situations and assist the player in need.
Demographics
In 1978, summertime youth employment rate was 58.0, in the year 2000 it was 51.7 and now it is 32.9. Over the last part of the twentieth century, the employment rate fell gradually for cultural reasons, such as the increased role of summer school or supplementary instruction to improve grades in order to gain a scholarship and prepare for post-secondary studies, a focus on volunteer work and some families that do not require teenagers to work. In the past ten years, the recession has reduced the number of jobs that are available and caused adults to compete for traditional youth jobs.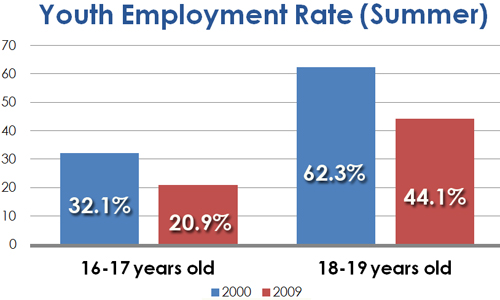 Younger student-athletes and minorities experience greater unemployment than their peers. The employment rate is roughly equal between males and females.
Source: Morisi, T. L. (2010, May). The early 2000s: A period of declining teen summer employment rates. Retrieved April 22, 2012, from U.S. Bureau of Labor Statistics: http://www.bls.gov/opub/mlr/2010/05/art2full.pdf.
Employment Standards
Young workers are the most likely to be injured in a workplace accident. A key aspect of prevention is information: knowing your rights and knowing the safety risks in the workplace. Many are unaware of the hazards at work and how they can protect themselves. Ontario's Workplace Safety & Insurance Board offers an education programme to indoctrinate youth about safety on the job. Coaches should always remind players about the importance of safety and job training.
Employment Standards
New to the workplace, young workers may not be familiar with legislation in Ontario pertaining to workplace rights. Minimum wage, holiday pay and overtime are detailed in writing, alongside other pertinent issues for workers in their first job.